A Weekend Workshop for Couples
We are delighted to be offering live in-person workshops every other month.
For individual Couples Intensive Retreats, please click here
to schedule a 30 min. complimentary consultation.
Or call Dr. Trish Stanley at 858-775-9388 for details and availability.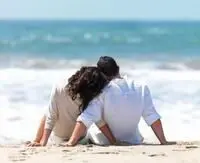 NEW WORKSHOP DATES TO CHOOSE FROM:
December 8, 9 & 10, 2023 - SOLD OUT
February 16, 17 & 18, 2024 - SOLD OUT

April 19, 20 & 21, 2024

June 7, 8 & 9, 2024

August 9, 10 & 11, 2024

October 11, 12 & 13, 2024


Early bird registration is $945 per couple. Scroll down the page to enroll. Regular registration fee is $995 per couple.

A cozy, intimate workshop that will transform your relationship!
A very special and private Art & Science of Love Couples Workshop limited to seven couples held in a peaceful retreat style setting in the WindanSea Beach area of scenic La Jolla, California. The new Art and Science of Love Couples toolbox will be be given to each couple; this includes a workbook, interesting and playful card decks and more.
All three days of the retreat include lectures, science-based information, videos and role plays by Trish and a colleague from the Center for Couples Therapy, discussion about the content, and exercises that you will do only with your partner. When hearing information, we will be seated together in a comfortable living area. When it comes time to do exercises, you may move to special outdoor spots on the patios or garden areas, one of which has an ocean view. You will not be pressured to disclose anything publicly. Because of the small size of the group, there will be more one-on-one support time with Trish Stanley.
For added comfort and processing time, we have scheduled the workshop in three parts: Friday evening, Saturday and Sunday morning.
Times:
Friday Evening - 3:30pm - 7:00pm
Saturday - 9:00am - 5:00pm
Sunday - 9:00am - 1:00pm
Location : Private retreat location in the WindanSea Beach area of beautiful La Jolla, California. Address and directions will be sent to confirmed attendees.
IMPORTANT: Our commitment to attendees is that both members of each couple will be fully vaccinated. Your registration is your agreement and confirmation that this is the case for both of you.
*Note: Once registration is complete, our Intake Scheduler, Crystal Carson, will be in contact to ask a few questions prior to the Workshop to gather a little more information. The call will take 5-10 minutes.
What You'll Learn

At the workshop, couples learn how to:
Foster respect, affection, and closeness
Build and share a deeper connection with each other's inner world
Keep conflict discussions calm
Break through and resolve conflict gridlock
Strengthen and maintain the successes in your relationship
The Workshop Program
When hearing information, we will be seated together in a comfortable living area. When it comes time to do exercises, you may move to special outdoor spots on the patios or garden areas, one of which has an ocean view.

Couples work privately on exercises designed to address the challenges in their relationship.
Gottman therapists are available to support couples one-on-one during exercises. There is no
group work, sharing, or public disclosure.

Workshop Topics
Learn to recognize the Four Horsemen of the Apocalypse and what to do if they are attacking your marriage.
Learn how Love Maps provide a solid foundation for your marital intimacy.
Use the Fondness and Admiration System to renew respect and care for one another.
Learn small, easy steps that increase romance in your relationship.
Create an Emotional Bank Account that you can draw upon in times of stress.
Learn about the effects of physiological flooding and how it may affect conflict resolution.
Develop your problem-solving skills, including the 6 skills for conflict resolution.
Discover how you can make your and your partners life dreams come true.
Intensive Couples Therapy : Intensive Couples Therapy sessions will be available before and after the workshop. Please contact Trish Stanley directly at 858-775-9388 for more information or to schedule an appointment.
Cancellation policy: If cancellation is made three weeks, or 21 days, before workshop date, a full refund minus a $50 processing fee will be given. After the cut-off date, your registration will be converted to a credit, good for a full year, that you can use to attend future workshops.
For more Workshop Information:
Call (858) 775-9388 or email [email protected].